I had the honor of joining the Ohana community of Salesforce users, partners, SIs, ISVs, and MVPs at Tahoe Dreamin' for the first time last week. This was to be the last time it was held in Tahoe (South Lake, to be exact), and we couldn't have asked for a more perfect setting. Snow blanketed the mountains, beaches and lakes of the area, providing a beautiful backdrop for a few days packed full of networking, storytelling, education, food and fun!
For those interested, here's my rundown of the goings-on during the trip:
WIT Happy Hour
Held at Ace High Saloon & Smokehouse the night before Tahoe Dreamin' sessions began, and put on by the local WiT groups of Orange County, LA, Phoenix, Cleveland, and WiT Diversity, it was a great way to kick off the weekend. There was delicious BBQ, warm (and cool) beverages, and great conversation had all around. Old colleagues reconnecting and new friendships & networks being created against a snowy backdrop.
Sessions
The meat and potatoes of this trip were the sessions, held on Friday. A full day packed full of educational, enlightening, and ebullient speakers who captured and inspired the audience. A whopping 280 people attended Tahoe Dreamin' and the majority of them attended the keynote featuring Leah McGowen-Hare who got the crowd pumped up and inspired with her life's journey, hardships and how she overcame it all by being rubber, not velcro! Below is a video of the pre-key note dance party:
Start of #tahoedreamin18 keynote. #UpToSnowGood @salesforce pic.twitter.com/J55dT3lBoU

— Tahoe Dreamin' (@TahoeDreamin18) January 19, 2018
After Leah spoke, Gillian Bruce took the stage in her rainbow jumpsuit and showed us a fantastic demo of the Spring '18 Lightning Experience enhancements and features. We gave her "clappies", she gave us excitement! And just when you didn't think there was more, the sponsors took the stage to do a Lightning Round demo of their product or service!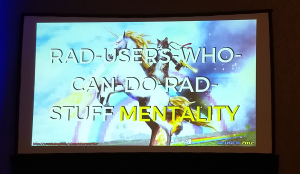 Psych 101 for Admins was next, where Brent Downey proceeded to entertain us, while also educating us, on driving adoption using behavioral science through 5 themes: Make it Personal, Tip the Scales, Craft the Journey, Set up the options, and Keep it Simple. There were golden gun-wielding cats riding fire breathing unicorns, Mario references, and amazing error messages – enough to get me inspired to ensure any new implementation I'm involved in has a kick-ass adoption strategy behind it. Thanks, Brent!
I then split my time between two sessions after lunch, starting with Build Industry Experiences with Lightning Bolt put on by Jarrod Kingston who did a wonderful job explaining what a Lightning Bolt was, how to set one up, and how it worked in the context of a community.
After that, I moved over to You Youngins and all your fancy tools – A Salesforce history lesson, a HIGHLY entertaining and informative session where Salesforce veterans (we're talking those in it from the very beginning) reminisced, often with related PTSD, about the good 'ol days before there was Apex, Visualforce, even Opportunities!
"Get Off My Lawn! You youngin's have it too good" Session at #TahoeDreamin18 #UpToSnowGood ???????? @imperialstout @Bill_Greenhaw @crmsalesgem @sfgodmother @tcsfdc pic.twitter.com/uejW5khNGQ

— Sharif Shaalan (@Sharif_Shaalan) January 19, 2018
The last, and probably the most lasting session was Male Allies in Tech. I was unsure exactly what this session entailed when I put it on my calendar, but was pleasantly surprised when I found it was an open and frank conversation about women in tech, their dismal outlook in terms of being hired and being retained in the field, as well as how male allies are the key in improving those numbers. Women are simply not treated as equals in the workforce, and it's no different in tech. Women need to have allies who champion women in their roles, listen, repeat and give credit, and notice and correct "micro-inequities or instances of unconscious bias." It brought to light that even I'd been perpetuating the "boy's club" mentality throughout my career in tech, thinking it was the only way to fit in and get ahead in this male-dominated field. I realize now that acting like that was only validating the bad behavior and doing nothing to address the fact that that it was truly inappropriate. Women are a strong and determined bunch, there is no doubt, but in this field, we need allies to help raise us up as equals.
Out and About
Between and after the sessions, many adventures awaited Tahoe Dreamin' participants. Downtown Lake Tahoe was full of shops, food and was only a few blocks from the beach. My Perficient team and I took a few adventures: trip to the local jerky deli, walk down to the snow-covered beach at sunset, and a gondola ride ride to the top of the mountain at sunrise. Majestic. Magical. Marvelous. And the views weren't bad either 😉 I'll let the photos do the talking: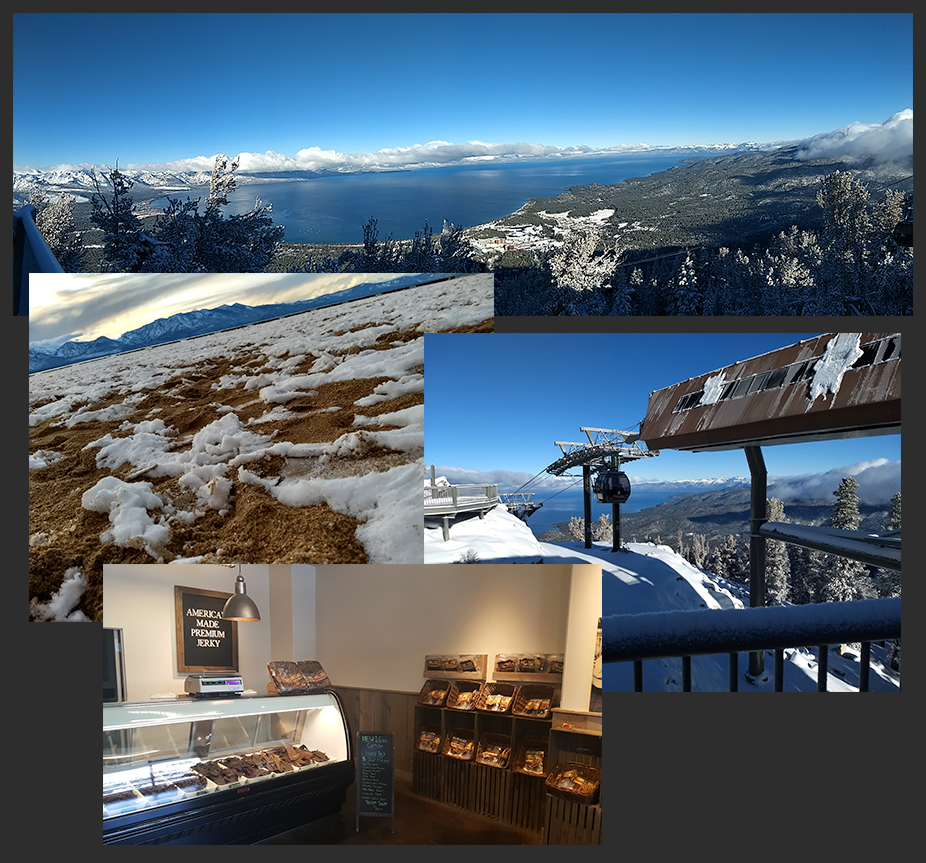 Leaving this magical setting was hard, but knowing that I have been welcomed with open arms into the Ohana was the best parting gift. I met amazing, talented and inspirational people here, and it's only further validated that I chose the right path in Salesforce. Looking forward to next year in Sacramento!